Large High-Tech Wax Hand Machine – COMPLETE TRAINING PACKAGES ARE FREE WITH A MACHINE PURCHASE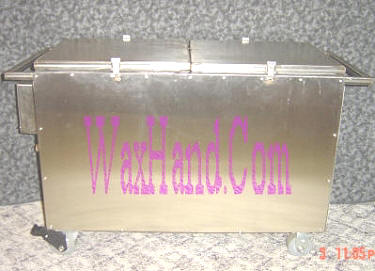 Runs on electric with a standard grounded 20 foot heavy duty cord pulls 13 amps. (1500 watts). Well Insulated.
measures – 52″ long with handles, 42″ long w/o handles (body length); 22″ wide; 31″ high w/lid and 30″ high w/o lid on. Computerized Controllers – High tech has 2 controllers – one for large clear wax area and one for four sleeves. Secure lid for traveling with wax melted. Wheels – High tech has caster wheels (no air). Drains – The high tech has 2 drains 1 for clear and 1 for water drainage of the 4 sleeves. The high tech has 2 drains for the water on the large sleeve side and one for the four sleeves.
Holds 250 pounds of wax.
(We have 1 large clear sleeve and then four colored that can produce other combination colors when interchanging while dipping so that you can have up to 12 different color choices and many color combinations.)
*Beware of machines made from other metals such as aluminum or galvanized. Some metals give off gases when heated and some rust. We only use a well quality gauge stainless steel with the better weld style for indefinite lifetime of product.
OUR MACHINERY IS EQUALLY BALANCED IN TEMPERATURE IN ALL THE SLEEVES UNLIKE SOME OTHER MACHINES THAT ARE COMPUTERIZED WITH OTHER TYPE OF HEATING SYSTEMS ESPECIALLY DIRECT HEAT SYSTEMS. BEWARE: If you read of machinery for wax hands showing you to have temperatures at above 155 degrees this is not safe. Scalding is at the temperate of 160. You can verify this through your local children's hospital or burn center on temperatures and skin contact!!! We are very concerned of the companies that have just emerged selling WAX MELTERS that are candle making equipment – THESE ARE NOT WAX HANDS MACHINES AND THEY ARE DIRECT HEAT UNITS WHICH ARE VERY DANGEROUS FOR SEVERAL REASONS, one being, that these wax melters for melting wax NOT for human body parts because of the uneven temperature in the different sleeves of the unit and the high temperature degrees used as well!! These are NOT SAFE! Ask the companies to give credential and proof as to "how long" they have been selling machines and references. We can provide this! Also, it is so important that you find out if the company can tell you how to do wax hands, how to do the wax and coloring, ect. And we tell you where to get all the supplies you will need. You need full support in your new wax hand business that you will be getting into. There are companies who will sell you a machine that melts wax BUT then NOT support you on "How To" or the machine is not "fit" for the human body to be put into the wax of their machine since it is not regulated SPECIFICALLY for people's hands or feet and can be dangerous! Do your homework before purchasing any wax machinery. Make sure the company can give you full support on how to do this process. Also, MAKE SURE THE MACHINE CAN STAY WITHIN 3 DEGREES MAX BETWEEN CYLINDERS OR IT IS NOT SAFE FOR PEOPLE TO DIP INTO.