$3995 Water-Jacket Style Wax Hand Machine – COMPLETE TRAINING PACKAGES INCLUDED WITH ANY MACHINE PURCHASE.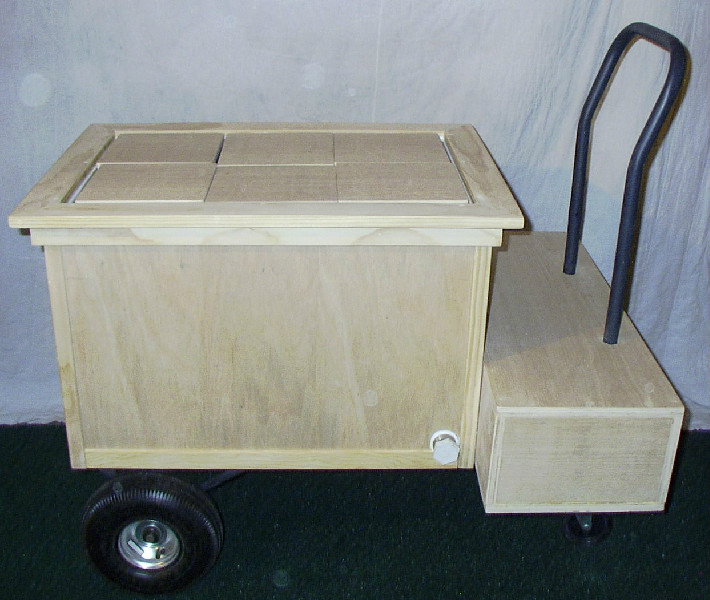 Our economical compact style machine:
The sleeves 6 compartments are 8″ x 8″ for plenty of dipping room. The unit is 27″ long by 18″ wide, and holds 150 pounds of wax (2 clear compartments; 4 colored compartments producing other combination colors when interchanging while dipping so that you can have up to 12 different color choices with many color combinations).
Our wax hand machines are constructed of high-grade stainless steel (tank and 6 compartments) which prevents foreign metals from entering wax compartments.  The unit is housed with quality cabinetry wood that can be stained, painted, or airbrush designed. The wood lids on each compartments makes your unit secure for travel with wax melted (unit is well insulated).
The wax in our machine is heated by a water-bath system where no electricity is connected with hand dipping compartments for safety. Our water-bath heated system is safely controlled so the temperature of the wax compartments are consistent in order to prevent/exceed scalding levels.
The self contained unit is transported by a cart that is 48″ long and 21″ wide. The unit is securely mounted on a cart that is 29″ high with removable 39″ high handle bar. There is a water tank drain for convenience.
Runs on electric with standard grounded 20 foot heavy duty cord pulls 13 amps. (1500 watts).
We are proud to be the first wax hand business (since 1995) to sell training packages and blue prints all over the world. We have sold over 150 wax hand machines world-wide along with training and education. Being on cruise-lines, multiple Ripley's Believe it Or Not, multiple Yankee Candle Company; Lion Country Safari, Third Planet, Madame Tussauds, The Wax Museum, and many more large corporate companies as well as many individuals wanting to start their own business.