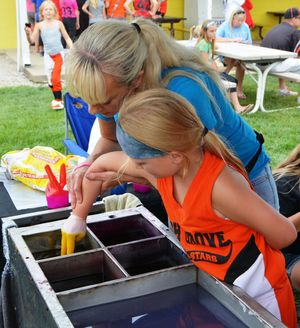 Melissa Gibson
Hendricks County Flyer
AVON -The second annual Avon Junior Athletic Association (AJAA) Cleats v. Cancer tournament is hosting hundreds of girls softball players and spectators throughout the weekend at 866 S CR 625 E, Avon.
Darren Snodgrass' daughter Lizzie, came to him early in her senior year at Avon High School with an idea for combining softball with a fight against cancer.
Working with their friends from AJAA, a tournament was soon formed and successful from the start.
Tim Hunt, softball director for AJAA, originally made the suggestion. "Tim has done an amazing job with the softball organization. He's doing great stuff for the kids, he cares for them a lot," Snodgrass said.
"Last year we had 21 teams, we were blessed with good weather and it was very successful," Snodgrass said.
This year, the volunteer crew is expecting an even larger response.
Anticipating 36 teams and more than 120 games over the next few days has been a huge undertaking- all for the sake of donating as much as possible to cancer research.
In planning for the large amount of spectators and players, Amanda Babinec, the new executive director for AJAA said, "We were looking at an offsite location. We're using a diamond at White Oak elementary."
Just four weeks on the job, Babinec is playing a supporting role in the tournament this year, but supports the effort wherever she can.
"This is a big operation but it's phenomenal for Avon," Babinec said. "Think of all the people coming to [the area]. It's great for AJAA, and great for the town."
Originally, the Snodgrass' and AJAA leadership didn't anticipate such a successful outcome. "Were still so grassroots, were not doing a lot of fundraising yet," explained Snodgrass.
Donated money comes from the entry fees and some small auction items. There will be an autographed softball, t-shirts, and a 50/50 raffle donation for all money collected.
Debbie Snodgrass explained, "Buy as many tickets as you want for $1 apiece and then the winner donates half the award to cancer and the other half goes to that person or team."
Local booths and vendors will be donating some proceeds to the fundraiser as well, and offering an assortment of items to spectators, including metal award holders for the players.
2014 Cleats v. Cancer t-shirts are sold featuring the V Foundation for Cancer Research slogan, "Don't Give Up… Don't Ever Give Up!"
Deiwert Kustoms air-brush vinyl graphics was on hand to decorate helmets with designs or player name.
Cindy Costa, from Wax Hands offered a unique booth, featuring a duplicate of the participants hand in wax. Teammates were flocking to the booth for peace signs or 'ok' signs made with their own hand.
The softball players may or may not bring home a trophy, but each player will bring home a lesson of supporting community and those struggling with the disease.
The overall goal is to bring awareness to cancer research, support families that have lost loved ones and honor those that have survived cancer.
"You see pink jerseys and cancer ribbon on their socks," Snodgrass said. "I think a lot of them understand why they have the pink jersey."
Each team receives a commemorative pink softball for the coach to use at their discretion and sometimes, teams will request an additional ball to sign and donate to a team member or loved one at home.
"I've been choked up a couple of times from presenting game balls to kids that are suffering from cancer," Snodgrass remembers.
Babinec agreed, "A lot of [the kids] are touched by cancer."
AJAA has been in Avon since 1963 and as the new executive director, Babinec says, "We want to continue tournaments such as this. We want to continue to bring people into Avon."
Along with spreading the AJAA name and purpose out in the community, Babinec said, "We want to do an annual awards banquet for the kids, including mental attitude awards, spirit awards, and most improved player."
They have another year to improve, adjust and plan for the next Cleats v. Cancer tournament and love for the kids and passion for fighting cancer will be just as strong.
"It takes a village," said Babinec. "These are all volunteers. If you go out there, look around and everyone you see is a volunteer."
Pool games began Aug. 7 and bracket games began Aug. 9 at noon. Weather permitting, championship games should conclude by the end of day on Aug. 10.
For more information about AJAA, visit http://www.ajaaonline.com/